Integrate Page with Facebook Pixel for Get Traffic
Facebook Pixel
Facebook Pixelis a tools that you are able to use for tracking user behavior in order to help you creating audiences for your marketing targets.
To use Facebook Pixel, you should integrate MTARGET with Facebook Pixel first through adding the Facebook Pixel's ID on MTARGET. Here's the instruction:
Creating Facebook Pixel ID
Enter your Facebook Ads dashboard.
Click the dropdown at the top left, then select Pixels.
After you enter the Pixel menu, click "Create a Pixel" or click the "Add new data source" button then select Facebook Pixel.
After that a command will appear to provide the Page you want to integrate with Facebook Pixel. Write the Pixel Name as the name * campaign * on Facebook Pixel, then the command "Check your websites for easy set up options" fill in with a link from the Page that you have created and will be integrated with facebook pixel.
Then there will be 3 choices that appear, select "Manually add Pixel code to Website".
Click the "Email Instructions" button next to the "Continue" button.
There you will get your Facebook Pixel ID. Copy the code.
Now, get back to your MTARGET account. Login to https://mtarget.co/login.
After login, you will get into Page. The, click Manage Analytic button on navigation and action area. Then, you will be directed to a page to manage Analytic.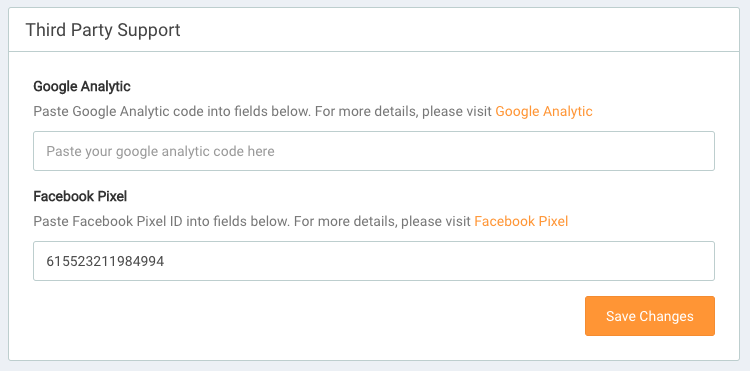 Paste your Pixel ID on field that we have provided. Then click Save Changes.
Return to Facebook Pixel. In the third stage, you can input the Page link that will be integrated into column number 3. After clicking the 'Send Test Traffic' button, if the red turns green, the integration has succeeded. Continue by clicking the 'Continue' button.
Click 'Use Facebook's Event Setup Tool'
After that, you will be asked to select behavior based on the button that is clicked. There are 9 parameters:
Purchase
lead
Complete Registration
Add Payment Info
Add to cart
Add to Wishlist
Checkout Initiate
Search
View Content
You can determine it as needed. It is recommended that you specify 3 parameters, or more.
After finishing determining the Event, click "Finish".
Your Page has been successfully integrated with Facebook Pixel. You will not only see how much Page View you have, but also which buttons are mostly clicked to determine the behavior.
---
Tips
Check Pixel Status
After you installed the Pixel, on some occasion the process of Pixel is taking too much time. So, you should install an extension device to check if the Pixel has being installed correctly.
Add the extensions through Chrome Webstore: Facebook Pixel Helper. Click Add to Chrome to add.
Afterwards, you are able to open the page that you have created and click Facebook Pixel Helper icon on your right corner of browser.
If there appears pop-up like image below, then Facebook Pixel has integrated on MTARGET and its ready to use.