Manage Sender Profile and Email Validation
To be able to send the email, you have to create email sender first. Please follow the following instructions:
Add Sender

To add sender, you have to get into Email Marketing menu. Click Manage Sender, then select Add Sender.

Then, you have to fill the sender name and email address. Please make sure the name and email address data are correct. Afterwards, click Save.
Note: The email domain used as sender must be the same. If the domain is @mailtarget.co, then only email with the @mailtarget.co domain that can be added. for example: demo@mailtarget.co and internal@mailtarget.co.
Flow
Flow : Email Marketing menu → click Manage Sender → click Add Sender → fill Name dan Email Address → click Save.
---
Email Validation
After you added the sender, the sender that you just added is not able to send email, it has to be validated first. Then, the sender will be able to send email.
How to validating an email?

After you done adding a sender, the Validated status on new sender will be shown as "No". It means the sender has not able to send an email.
New sender will get an email from MTARGET Team that contains call-to-action to do Validate Sender. Click the button to validate. Then, you are going to be redirected to validation notification page. If the process succeed, then it will appear: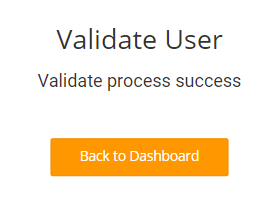 Sender page has validated
Sender successfully validated
After the new sender clicked Validate button, then the Validate status on new sender will change into "Yes" that means the new sender is able to send email.
Flow
Add Sender → check Validated Status ("No") → check email inbox → click call-to-action Validate Sender → click Validate → click Validated Status ("Yes")
Edit and Delete Sender
How to edit sender?
Click edit icon, you will just be able to edit on sender name. It is impossible for you to change the email address.
To delete sender, you just have to click on delete icon. Then, click Cancel to cancel the delete request or click delete to delete sender's name and email address.
Flow Edit Sender
Email Marketing menu → click Manage Sender → click edit icon → edit Sender Name → Save
Flow Delete Sender
Email Marketing menu → click Manage Sender → click delete icon → Delete
---